SOUNDWORLDS 1: Steampunk Buddha Machine
SOUNDWORLD EXPERIMENTS
With my sound designer hat on I'm fascinated by all aspects of sounds and design, and recently bought one of the inexpensive Buddha Machine II boxes designed by the Beijing-based music duo of Christiaan Virant and Zhang Jian.

This plays your choice of nine audio loops, each averaging about 30 seconds long, and repeated listening to these carefully chosen musical snippets can be incredibly relaxing, eventually becoming almost meditational. However, I couldn't help thinking that as supplied, its little plastic case was rather anonymous.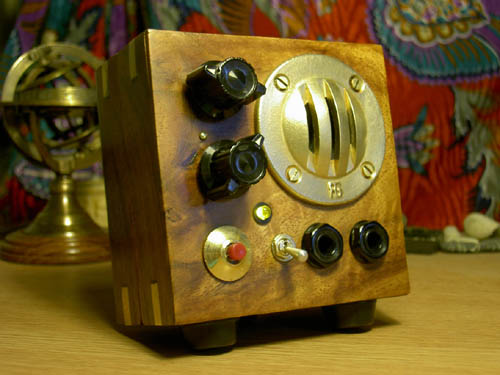 Steampunk Buddha Machine II
So, I decided to extend both its musical possibilities and at the same time giving it a total makeover. The first step was some 'circuit-bending' (creative modification of the existing circuitry to add extra controls and sound options).

I then set about creating a new polished wood and brass enclosure for it, inspired by my current fascination with Steampunk (Victorian Science Fiction).

Although it took quite a time to source
suitable parts (from old electronic
equipment and even marine accessory
suppliers) and reinstall the electronic
circuitry with its various extra controls,
I was very pleased with the final result. You can now vary the pitch of my Steampunk Buddha Machine over several octaves, from low and slowly swelling drones to frantic morse-code like tappings, as well as using it as a portable amplifier capable of heavily modifying incoming audio.
< br />
Further Information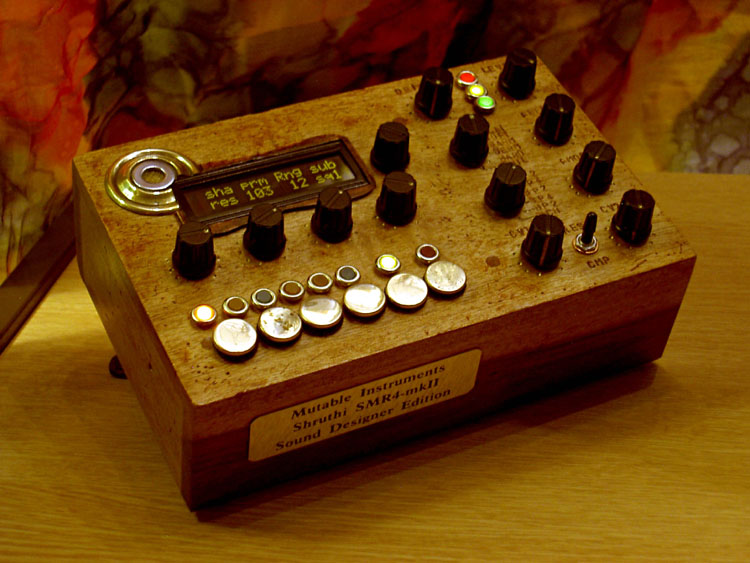 SOUNDWORLDS 2 - Steampunk Shruthi SDE monosynth: Another foray into steampunk territory, this time chronicling extensive mods to a Mutable Instruments Shruthi MIDI monosynth.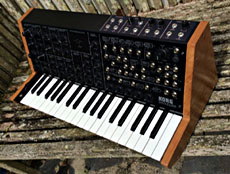 SOUNDWORLDS 3 - Korg MS-20 Retro Expansion: This time Martin adds an entirely new front panel containing sixteen additional controls to his Korg MS-20 Mini synth, featuring FM, PWM, Sync, Diode Ring Mod, multiple oscillator waveform outputs & enhanced mixer, as well as some gorgeous cherry hardwood side panels!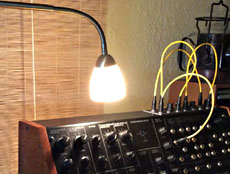 SOUNDWORLDS 4 - Steampunk Synth Luminator: To illuminate the controls of his Korg MS-20 Retro Expansion synth, Martin designs a desklamp resplendent in full steampunk regalia.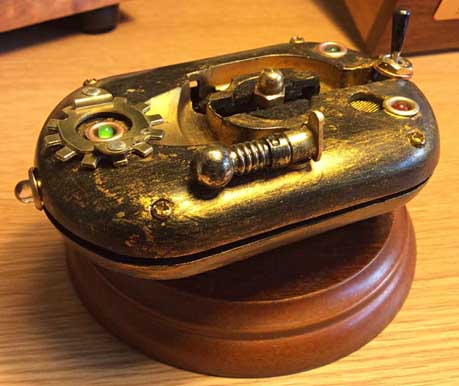 SOUNDWORLDS 5 - Steampunk Photon Hunter: Another steampunk creation, this fascinating device responds to CHANGES of light level, enabling the capture of completely new soundworlds!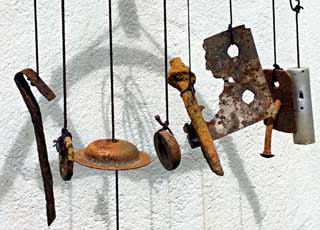 SOUNDWORLDS 6 - The Rustacean : Created from found objects, scavenged from the sea, or rescued from rivers, this artistic creation still manages to produce its own unique audio contribution!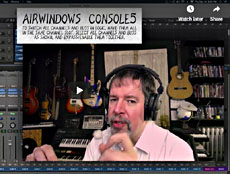 SOUNDWORLDS 7 - Optimising Airwindows Console5: Martin explores ways to achieve the most effective results from this plug-in pair, whose results are subtle yet glorious, adding glue and spacial depth to mixes, and a sense of space around each sound.
Spectacular Moments Of Wonder With Dr. Monocle - We feature in the sounds section of the Dr. Monocle steampunk web site.