Reviews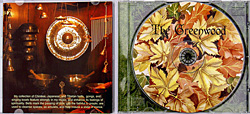 The Greenwood
"The Greenwood makes a wonderful background for any kind of meditative journey, or can be used to set the mood. The pieces feature Celtic harps, the dulcimer, bells and singing bowls, along with the natural sounds of the forest.
Martin's aim was to "capture the mystery and magic of the ancient forest" and this he has most certainly done. I used it as a background both for some tarot work and a long pathworking and it proved a truly magical background, with bird song gently entering the pathworking and taking it in a different direction. Worth a place in any collection of CDs."

PAGAN DAWN MAGAZINE, Imbolc - Spring Equinox 2009
"'I am in chill heaven'. Although only a few words, I believe that single sentence describes exactly the feeling imparted to the listener when taking this personal journey of Martin's music. Evocative without being brash, emotional without being wishy-washy, moving and creative to the point of asking questions as opposed to making statements, this album delivers exactly what is required from the genre.
Where Martin scores heavily, and different to other counterparts in this particular genre, is that there is not an endless single note effect that lasts for minutes and attempts to pass as 'music', but a rich mixture of strong compositions coupled with a thoughtful selection of sounds that marry beautifully to move the listener into 'thinking and feeling' instead of 'accepting'. I cannot recommend The Greenwood enough."

Eddie Bazil - SAMPLECRAZE
"There is a new Martin Walker CD available - The Greenwood. Martin is an all time favourite here at the Lavender Pillow and his latest release is really rather special. All you Martin Walker fans will be delighted with it..
If you have never heard any of Martin's music, we recommend it most highly...It is gentle, subtle, and totally absorbing. It spirits you away to places of tranquillity and serenity and you will want to revisit again and again... and even if you don't like it... you can always put it in a frame and hang it on the wall because the cover artwork (by Martin's wife Belinda) is just beautiful."

Bazz Cooper - LAVENDER PILLOW
"I really like "The Greenwood" - you really do have a signature sound! I could pick that out as being you from hours of other peoples' music!"

Kevin Kendle - EVENTIDE MUSIC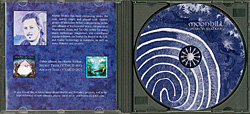 Moonhill
"Whether using Moonhill for meditative purposes or for setting a mood, Martin Walker's inspired arrangements instantly lift your energies, as their perfectly balanced combination of traditional instruments and synthesised effects cascade over you, like a warm, glittering waterfall.
Unlike so much of that 'plinky-plinky', New-Age (cringe!) music out there, Moonhill is not something you would ever have to endure in the vain hope that it will be doing you the power of good at some subtle depth - it is an absolute pleasure to listen to on all levels. It makes wonderfully unobtrusive background music that is equally valid for treating like any other music CD, to be played at any time and volume, whatever you're doing.
I have found it such wonderful meditation music. Each time I've played Moonhill I've been both astonished and delighted at how instantaneously this CD's affected me, both physically, emotionally, and Divinely. I can also depend on it to evoke a different experience every time.
Martin Walker has facilitated the capture of some exceptional vibrations with his composing and arrangements. Listening to 'Moonhill' I can access, effortlessly, the imaginative, all-sensing and all-encompassing realms within and without myself that would so often be reached only after considerable and deliberate relaxation."

Anamaya - CPW MAGAZINE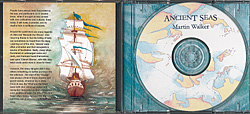 Ancient Seas
"Ancient Seas currently plays on an almost continuous loop. I liked it when I first heard it, but it's grown and grown on me - lovely piece of work!"
Music From The Mountains
"Martin Walker, a composer living in North Cornwall, used his local coastline as the inspiration for this CD. It evokes all of the qualities of the sea, its peace, its depth, its power, its danger and its wonder."
MysTree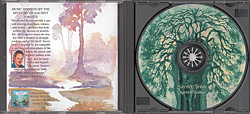 Secret Trees
"The best way I can describe Martin's work is like a slowly turning musical kaleidoscope. Look through one of those magic tubes and the same basic shapes and colours will produce a myriad of patterns. And so it is with Secret Trees.
A particular favourite is 'Spirit Glade' which captures that air of mystery of a moonlit glade where the other-worldly beings abide. Deep cello behind a bell-like pattern played on celeste begins in a major key, giving a false sense of security before an unexpected change to a darker, minor key - as if the moon has just gone behind a cloud - with a choir accompaniment reminiscent of 'Neptune, The Mystic' from Gustav Holst's 'The Planets'. Then the cloud passes and the music returns to its more gentler beginnings with additional flute.
Another favourite is 'Nightfall', the longest track, where amongst the gently swirling synthesisers, bells, and harp is the interplay between flute and oboe which soothes the day's mental aches and pains. In the end, Secret Trees leaves me relaxed, refreshed, and at peace"

Neil Leacy - WIND & WIRE MAGAZINE
"Ideal for therapists, meditation, expectant parents, over-worked students and stressed business people everywhere. In every sense a breath of fresh air"

ENCHANTED